Learning The Art of Playing Guitar
by Stephan Likman
My first experience with the guitar came at the age of nine when my parents gave me a nylon string classical guitar for Christmas. I had a few plastic toy guitars before that one, but this was my first real guitar. I immediately began taking group lessons at the middle school nearby. I found that I could play with some competence at this age, but this particular guitar was a bit large for me to play comfortably. So, needless to say, I lost interest for a while.

When I reached the age of twelve, I pulled the guitar from the closet and decided to begin teaching myself a few chords following along in a Mel Bay instruction book. I borrowed an imitation Stratocaster style electric guitar from my neighbor along with a small low wattage amplifier and began learning songs from a Beatle's songbook I borrowed from a friend. My friend was learning how to play through a jazz guitarist who traveled to his home for lessons. I asked my friend for a referral and thus began my formal education in the art of playing guitar.

Throughout my high school years, I spent all my free time practicing, forming bands, writing my own songs and learning as much as I could about music. I spent a lot of time dreaming about recording my music in a real recording studio. In the summer of my senior year, I was able to save enough money to record three original songs at a local studio with two friends of mine. We were young and a bit inexperienced but we thought this was our ticket to the big time.

Into my college years, the band began taking over playing anywhere and everywhere we could, beaches, boardwalks, high schools, shopping malls and college parties to name a few. I continued writing and recording right through the end of college and figured I would make music my career. The band began making a name for itself appearing on local television shows and performing at local clubs in support of more established acts. By this time, I had a day job and hoped my newly found notoriety would end my conventional existence.

But as with many dreams of stardom, sometimes tragic circumstances steer those dreams in a different direction. With the disability of a parent, a career in music became less important and family became a priority. Also around this time, I started my own family and felt the need to abandon my dreams of stardom coming back to reality. I may have abandoned those rock star dreams, but I couldn't put the guitar back in the closet.

I found the guitar had become a part me, shaping my life and personality. I played it every day and wrote and recorded hundreds of compositions on it. It helped me through the good times and the bad and I really couldn't live without it. So, I thought back to my early days and decided to start a studio from which I could teach new students to play, write and record their own music. Passing on the same joy and satisfaction I've experienced throughout my life while learning the art of playing guitar.
Dedicated to Connie & Ed (Mom & Dad)
Thank you for starting my journey learning the art of playing guitar!
Copyright 2014 Stephan Likman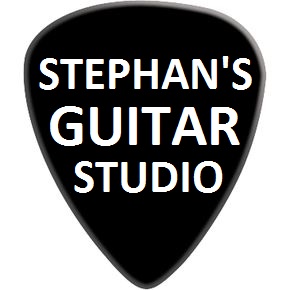 Stephan's Guitar Studio, LLC
mail: 2001 Variations Drive NE Atlanta GA 30329
phone: (404) 729-2450
e-mail: stephansguitarstudio@gmail.com
web: stephansguitarstudio.mymusicstaff.com